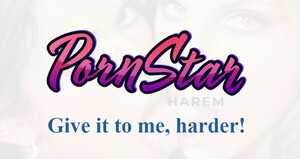 A simple Guy-For-Everything hustler struggles to make a porn website to rule them all. Until he meets his guardian Angel. Blessed with the extraordinary ability to shapeshift into every woman's dream man, he sets out to conquer the world.
Pornstar Harem is an online, pornstar collection RPG. Venture through the world, conquering the hearts of various gorgeous pornstars. Yes, real life pornstars.
Brought to you by the creators of Hentai Heroes: the famous hentai RPG with manga parodies and very kinky content. Pornstar Harem is accessible for free on Desktop and Mobile at
PLAY FREE
Adventure
The world is your oyster, and biscuit, and taco, and any other innuendo you can imagine. Meet Angel, the woman who changes your life forever, and set out to befriend and recruit a lot of ladies in need.
Each world comes with exciting quests, mystery, humor and a lot of fornication.
Begin City is where it all starts. Go through your rookie days of porn stardom and learn everything that will help you for the journey ahead.
Every world offers the following:
You can compete against a naughty mistress who is keeping girls away from you. It's your duty to win and offer them a better life in your harem. You will win them over by engaging with your adversary in a sexual performance: the one who is better at satisfying his harem wins. Just a tip: Better equipment gives better chances, although drop rate is random. But whenever you win, you will get awesome rewards.
Just like in real life, quests require energy. Once you're out of energy, you can recharge with the special in game premium currency – Gold. Or if you prefer you can just wait for it to recharge itself.
And again, just like in real life, quests may take energy, but you get experience! The XP you collect in your adventures will allow you to level up.
Each world ends with the juiciest reward: a horny star for your harem.
Your Harem
The pornstars crave your skills, because you are all they've ever wanted. They want to be part of your harem so that they have access to your disco stick whenever they need it. How can you say no to them?
Because you care for them so well, the stars will pay you for your time. The stars have different rarities and will reward you with different amounts of cash.
The more soft currency (Cash) you have, the more things you can buy.
The more you level up your girls, the more Cash you will receive.
Every time you level up a star in your harem, you will get to see her in action. Namely, she will lose clothes and you will see her hot affection scenes with you. (You can always go back to the NSFW visuals- just click on the little stars).
Need to level-up a Star, give her experience, improve your equipment, or temporarily boost your stats? Just go to the Market!
You can choose amongst various equipment items from the Shop. Each one of them has a certain effect on your stats. In order to be stronger in battles, you will have to choose a class and buy equipment and boosters to make your performances against the villains and other players the best possible. But you should also shop for your girls! Books give your girls experience points and Gifts help them level up, which means more Cash for you.
PLAY FREE
PvP
You get to perform against other aspiring porn actors and their teams in the Seasons feature. Every month there will be a theme and special pornstars you can win. Pick a team of your hottest and most skilled pornstars and enjoy the sex-off. When you win, you will get Mojo, XP and Affection for you girls.
And wanna see your place in the hierarchy? Just click on the Leaderboard in the Seasons!
The other performances are against the villains! Beat the villains and get various items, money, XP and most importantly – girls!!!
Let's go to the Night-club!
Are you feeling lucky? Just spin on the dance floor and win the pornstars of your dreams! The Night-club is the Gacha feature: you have two different gacha games you can play. You have Great, and Epic Night-clubs which have different rewards and different girls. Success is guaranteed: you will always receive amazing rewards: from equipment to girls. The drop rate is random.
Wanna play it safe? A girl guaranteed plus tons of epic and rare items if you are ready to pay for it – just use the 10 Games option of the Epic Night-Club
Activities!
If you are done with your quests and are waiting for the new ones, Pornstar Harem provides a lot of other Activities for you. Just go to the Activities tab and you will find Daily Missions, which will give you special rewards, but not only… You will also get Kobans, XP, money, special orbs to use in the Night-Club and items! In Contests you can compare your performance with that of other players and win different rewards.
For every day that you log in this horny world, you will get a special Daily reward. And every month you will have special intriguing and stimulating events that will bring you out-of-this-world gorgeous babes and rewards.
Check out the Daily Goals tab and complete personalized daily challenges to earn gifts for your pornstars and other exciting rewards
Thank you for taking the time to read this.
Now get ready to shapeshift, take off your pants and make the Pornstars see stars on PLAY FREE
PornStar Harem
Classic event
Get the whipped cream ready!
You have until the 10th of December to seduce six horny Stars and take them to your Harem. Complete all missions, and Tobi Pacific will be all yours.
Compete against other worthy opponents in the new Season Wicked Snowwhites, and Lizi Vogue and Kayla Marie will join your Harem.
It will be as sweet as cookies and cream!
Mythic event – 3rd of Dec'
You have until the 6th of December to face Headmistress Asa Akira and win the heart of Ava Devine.
She seems to have no boundaries when it comes to fulfilling her kinky fantasies. She goes beyond the imagination, that's why she has the well-deserved title of The Queen of Filth.
Get her NOW for your Harem!
Promo codes: Use for #Cookies&Cream and #PSHMythicDays12 for ingame rewards!
Join PornStar Harem!
PLAY FREE
All new players that have registered with our link and used #AdultGames as a promo code will receive 10 euros of ingame currency.
Date: 01.12.-10.12.2023
Language: English
Version: Online Game
Censored: No
Developer: Kinkoid
Also leave a comment with your platform and ingame ID and you will receive ingame goodies – Don't forget to leave your platform and ingame ID for the rewards.
Creator of this game: Gamingadult.com